Just What The Doctor Ordered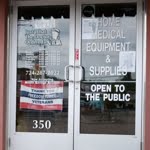 Just What The Doctor Ordered
Best Nursing Uniform
Just What The Doctor Ordered, located in Lyndora, PA, supplies medical equipment and supplies to our customers. Our mission is to provide our consumers with quality service and excellence. We accomplish this by carrying over 30,000 products that are reasonably priced including our health care scrubs and health care items.
Because we have too many items to list on our website please call for pricing on all of our nursing supplies, medical supplies, urological, ostomy, convalescent care, over the counter & health & beauty aids and any hard to find products.
Our products include:
• Medical equipment - Knee Walker Rentals - Hospital Beds, Lifts, etc
• Scrubs - Barco, Koi, Cherokee, White Cross, Healing Hands, Peaches
• Wigs
• Nursing supplies
• Medical supplies
• Orthotic equipment
* Lift Chairs
*Caregivers Suppport Group
We provide an extensive range of medical supplies distributed to your facilities front door. We offer aggressive pricing on bulk purchasing. We only use trusted brands.
Call Just What The Doctor Ordered today, we ship and service nationwide.
Contact Information
350 Hansen Plz, Lyndora PA 16045
Feature Services
Physical Therapy Equipment, Orthopedic Appliances, Protective Eyewear, Back Care Products, Medical Furniture, First Aid Supplies, Medical Alarms, Wheelchairs, Incontinence Aids, Walkers, Hospital Equipment, Safety Gloves, Diabetic Supplies, Home Health Care Equipment, Uniforms, Safety Shoes, Surgical Appliances
Languages
English, Japanese, Chinese, Indian, Spanish