Superior Residences of Lecanto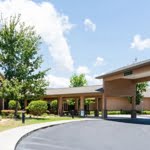 Superior Residences of Lecanto
Best Nursing Home
The new Superior Residences facility in Lecanto has 60 studio apartments and accommodations for up to 80 residents. Nursing care is provided around the clock, and residents' safety is ensured by the latest building security technology. The new facility also offers onsite barber and salon services, outdoor activity areas, and scheduled transportation.
We provide customized therapy programs and services for our residents in a comfortable, home-like environment. We strive to create a caring community that accommodates the unique needs and interests of our residents.
Caring for individuals with Alzheimer's or other memory-impairment issues means individualized service plans, a variety of activities, and an expert staff. At Superior Residences at Lecanto, we customize round-the-clock care for each resident's needs.
- Physical, occupational, and speech therapies onsite
- Licensed Nurse on site 24/7
- Customized service plan
- New facility with studio apartments
- High-tech security systems
- Respite/Day Stay Program
- Specialized memory-enhancement programs
- Therapy-driven activities program with measurable benchmarks to identify needs and progress
- Art therapy program
- Physical and sensory therapies
- Healthcare monitoring and management, including assistance with medications
- Life Enrichment program and activities
- Onsite beauty and barber salon, including manicuring services
- Close to restaurants and shopping
- Media room
- Private dining
Call Superior Residences of Lecanto today or visit our website for more information!
Contact Information
4865 W Gulf To Lake Hwy, Lecanto FL 34461
Feature Services
Respite Day Stay Program, And Companion Rooms Available, High-Tech Security Community, 24-Hour Emergency Response System, Individually Controlled Heating and Air, Around-The-Clock Staff, Delicious Meals and Snacks, Physical and Sensory Therapies, Family Involvement, Conditioning, Healthcare Monitoring and Management Including Assistance With Medications, Physical Occupational and Speech Therapies Onsite, Customized Round the Clock Care, Art Therapy Program, Life Enrichment Program and Activites, Private Rooms With Private Baths
Languages
English, Japanese, Chinese, Indian, Spanish