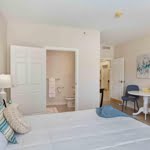 The Atrium at Drum Hill
Best Nursing Homes Skilled Nursing Facility
If you ask any of our residents what stands out about Benchmark, they are likely to say the meaningful relationships that are created at our communities. This is evidenced by the letters and emails that our founder, Tom Grape, receives on a regular basis.
Over twenty years ago, CEO Tom Grape recognized the need for setting a new standard—or benchmark, if you will. He saw the opportunity of creating an exceptional living experience for seniors built on connections, bonds, and quality care. He knew that what seniors wanted most were to feel safe, fulfilled, dignified and respected so by inspiring a "people first" philosophy, Tom created a culture of positive and rewarding human connection—not only for residents and families but for his associates as well. After all, a happy and inspired staff creates a happy and inspiring environment.
We, at Benchmark Senior Living, have a heartfelt desire to get to know you and are innately curious about the fabric of your life stories. We engage as a trusted friend, seeking to deeply know you and meet you where you are so we can help connect you to what and who matters to you at every stage of life.
What does that mean? That means Benchmark cares about you—your passions, your dreams, your hobbies, your family, your memories, your life. But it wasn't just by introducing an exciting and refreshing option to senior living through beautifully designed and expertly managed assisted living communities.
It was by focusing on the people and experiences. Honoring and respecting Benchmark associates as well as our residents, and families by inspiring growth, delivering quality experiences and leading the industry in innovative approaches and programs for senior care. It is our promise to keep Tom's vision alive--to being fully present for you and each other. We don't just say this, we mean it. And we live it.
This is how Benchmark came to be.
Contact Information
2 Technology Dr, North Chelmsford MA 1863
Languages
English, Japanese, Chinese, Indian, Spanish