The Gallery at Port Orange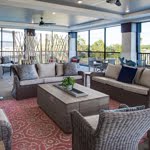 The Gallery at Port Orange
Best Nursing Home
The Gallery at Port Orange is a vibrant senior living community located in the heart of Port Orange, Florida, offering personalized levels of care and a wide array of amenities to suit the individual needs of our residents. We provide independent living, assisted living, and memory care services within our expansive 162,815 square-foot campus. Our community is designed to ensure that the lifestyle and well-being of our residents come first.
Our senior living community is located near Daytona Beach and is specifically tailored to cater to the unique preferences and interests of our residents. From our gorgeous private accommodations to our daily list of eclectic activities, there's no shortage of ways for our residents to engage their time. We provide various amenities such as a resort-style pool, activity rooms, arts & crafts classes, bocce ball court, casual bistro, cocktail bar, restaurant-style dining, walking trails, and a wine room.
Our community also offers various services to ensure our residents receive comprehensive care, such as 24-hour on-site staff (including nurses), design and downsizing services, a full salon, housekeeping, landscaping services, medical alert systems, on-site chef, transportation, trash & laundry services. We are also extremely pet friendly and welcome pets of all shapes and sizes.
At The Gallery at Port Orange, we are committed to providing our residents with an exceptional experience and a high quality of life. We understand that every individual has different needs and preferences, and we strive to meet them with care and compassion.
Contact Information
6241 S Williamson Blvd, Port Orange FL 32128
Languages
English, Japanese, Chinese, Indian, Spanish