West Coast Ultrasound Institute Inc.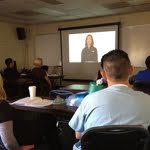 West Coast Ultrasound Institute Inc.
Best Nursing Schools
West Coast Ultrasound Institute believes that the rewards of education are both valuable and enduring. WCUIs main purpose is to allow each student to reap the rewards of their education by achieving their highest potential in the rapidly growing healthcare industry.At WCUI, our motto is Knowledge Builds Careers.West Coast Ultrasound Institute has designed specialized programs for all qualified students. These programs develop the students knowledge base and cultivate their skills while enabling them to meet the requirements of their particular fields. This allows our students to enter the healthcare job market with confidence. Students who successfully complete the programs offered at WCUI can rely on a solid foundation of theoretical and practical knowledge when they enter the medical field. Students are trained for entrylevel positions in their respective healthcare fields.
Contact Information
291 S La Cienega Blvd Ste 500, Beverly Hills CA 90211
Languages
English, Japanese, Chinese, Indian, Spanish